2by2 Lottery
The 2by2 lottery game was launched by the Multi-State Lottery Association (MUSL) in Kansas and Nebraska in 2002, with North Dakota joining in 2006. In March 2021, Wyoming joined the game, with Idaho doing the same the following month. The game is played seven nights a week, Monday through Sunday, and is conducted by the MUSL. Click here to see the latest results of the 2by2 lottery.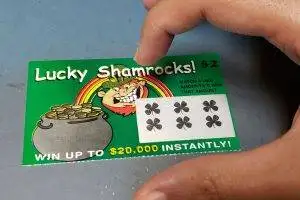 Our funny fake lottery tickets are realistic looking with guaranteed jackpots!
You will receive a set of 10 fake winning lottery tickets

When are 2by2 draws held?
Draws are held every day at 9:30 p.m. CT.
Where are the draws held?
2by2 draws are held in Des Moines, Iowa.
How do I play the game?
Pick two red numbers and two white numbers from 1 to 26.
What is the 2by2 Tuesday feature?
If you buy a multi-draw ticket for at least seven consecutive draws, any prizes won on a Tuesday will double.
In which states can I play 2by2?
You can play 2by2 in Idaho, Kansas, Nebraska, North Dakota, and Wyoming.
How many prize categories does 2by2 have?
There are a total of eight prize categories.
What is the top prize?
The top prize you can win in 2by2 is $44,000.
What's the smallest prize?
If you match just one ball, you win a free ticket.
What are the odds of winning the top prize?
You have a 1 in 105,625 chance of winning the top prize.
What are the odds of winning any prize?
You have a 1 in 3.59 chance of winning any prize.
The 2by2 game originated in Kansas and Nebraska in 2002.
Not to be confused with the Arizona-only game, also known as 2by2, that ran between 2009 and 2014.
All the prizes double on Tuesdays but only for those with multi-draw tickets for seven consecutive draws.
There is a limit of 10 top prize winners per day. If there are more than 10 winners, the top prize will be awarded on a pari-mutuel basis.
Players win Quick Pick plays by matching one red or one white ball.

LOTTERY GAMES BY STATE
Alabama – Arizona – Arkansas – California – Colorado – Connecticut – Delaware – Florida – Georgia – Idaho – Illinois – Indiana – Iowa – Kansas – Kentucky – Louisiana – Maine – Maryland – Massachusetts – Michigan – Minnesota – Mississippi – Missouri – Montana – Nebraska – New Hampshire – New Jersey – New Mexico – New York – North Carolina – North Dakota – Ohio – Oklahoma – Oregon – Pennsylvania – Rhode Island – South Carolina – South Dakota – Tennessee – Texas – Vermont – Virginia – Washington – West Virginia – Wisconsin – Wyoming
MULTI-STATE LOTTERY GAMES
Powerball – Mega Millions – Lucky for Life – Cash4Life – Gimme 5 – Lotto America – 2by2 – Tri-State Megabucks
Order Now – Lottery Numbers – Coupon Code – FAQ – Contact Us