Colorado Lottery Numbers and Results
Looking for Colorado Lottery Numbers and Results?  The Colorado Lottery started in 1983 and the first draw took place on April 23. The lottery is a self-funded organization, and funds its operations solely from its business revenue. The Colorado Lottery allocates funds from ticket sales toward improving the state's recreation facilities and protecting wilderness. Click here to see the latest Colorado lottery numbers and results.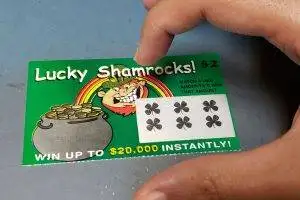 Our funny fake lottery tickets are realistic looking with guaranteed jackpots!
You will receive a set of 10 fake winning lottery tickets

What happens if my ticket is stolen or lost?
Lost tickets cannot be replaced. Sign the back of the ticket and fill out your address so that no one else can use it. Prizes can't be claimed unless the winning ticket is presented.
Can I remain anonymous if I win a lottery prize?
If you win a prize, your first name and the initials of your last name will be published on the Colorado Lottery website. You have a choice of getting your photo taken.
The Colorado Lottery does not recognize trusts, partnerships, or corporations as winners of lottery prizes. Only individuals can claim lottery prizes.
Can I purchase tickets by mail or phone?
No. You can only legally purchase Colorado Lottery tickets at state sales terminals. The Colorado Lottery does not offer an online or mail-in subscription service.
How old do I have to be to play the Colorado lottery?
Players must be 18 or older to play the lottery. However, you can purchase tickets as gifts for people under 18. If they win, they can claim their prize.
Where do Colorado Lottery funds go?
Colorado Lottery ticket profits are distributed to prizes as well as conservation and recreation services, including Colorado Parks and Wildlife, Great Outdoors Colorado (with spillover funds going to the Building Excellent Schools Today program), and the Conservation Trust Fund.
What lottery games can I play in Colorado?
Players choose from Lucky for Life, Cash 5, Colorado Lotto+, Pick 3, Mega Millions, and Powerball.
How long do I have to collect my winnings?
The Colorado Lottery gives winners 180 days from the date of the draw to claim their prizes.
Are Colorado Lottery prizes taxable?
Lottery winnings in Colorado are subject to both state and federal taxes. Check our Tax Information section for more details.
Can I buy lottery tickets in advance?
Yes, you can purchase tickets in advance for consecutive draws by using the Advance Play option through registered retailers.
Check the Advance Play box on your play slip and tell the retailer how many draws you'd like to play.
Where can I find results for Colorado on a particular day of the week?
Use the following links to find results for the day you are looking for:
Sunday, Monday, Tuesday, Wednesday, Thursday, Friday and Saturday.
Claiming Prizes
Here's the process for claiming Colorado Lottery prizes.
To claim your prize in person at a Colorado Lottery claim center, call (800) 999-2959 to make an appointment.
To claim a prize by mail, send the signed winning ticket and a completed claim form to:
Colorado Lottery
P.O. BOX 7
Pueblo, CO 81002
Keep a copy of all claim documents for your records.

LOTTERY GAMES BY STATE
Alabama – Arizona – Arkansas – California – Colorado – Connecticut – Delaware – Florida – Georgia – Idaho – Illinois – Indiana – Iowa – Kansas – Kentucky – Louisiana – Maine – Maryland – Massachusetts – Michigan – Minnesota – Mississippi – Missouri – Montana – Nebraska – New Hampshire – New Jersey – New Mexico – New York – North Carolina – North Dakota – Ohio – Oklahoma – Oregon – Pennsylvania – Rhode Island – South Carolina – South Dakota – Tennessee – Texas – Vermont – Virginia – Washington – West Virginia – Wisconsin – Wyoming
MULTI-STATE LOTTERY GAMES
Powerball – Mega Millions – Lucky for Life – Cash4Life – Gimme 5 – Lotto America – 2by2 – Tri-State Megabucks
Order Now – Lottery Numbers – Coupon Code – FAQ – Contact Us