Connecticut Lottery Numbers and Results
Looking for Connecticut Lottery Numbers and Results?  The Connecticut Lottery Corporation was launched in 1971 and the first ticket was sold in February 1972. The Connecticut Lottery is made up of a variety of in-state draw games, and players can also take part in Powerball and Mega Millions draws. The Connecticut Lottery offers its original lottery, Lotto!, to this day. Click here to see the latest Connecticut lottery numbers and results.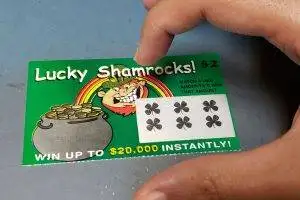 Our funny fake lottery tickets are realistic looking with guaranteed jackpots!
You will receive a set of 10 fake winning lottery tickets

Popular draw games in the state include Play3, Play4, Cash5, and Lotto!. In 2016, the Connecticut Lottery also started offering Keno, with draws taking place at 4-minute intervals.
Can I buy lottery tickets in advance?
Yes. Cash5, Lotto!, Lucky for Life, Mega Millions, and Powerball tickets can be purchased for 26 draws in advance. Play3 and Play4 tickets can be purchased for up to seven draws in advance. Just mark the Advance Action box on your lottery play slip.
Can I purchase lottery tickets by mail, phone, or online?
No, you can only buy tickets from licensed retailers.
How long do I have to collect my winnings?
You have 180 days from the date of the draw to claim your prize.
What lottery games can I play in Connecticut?
You can play Powerball, Mega Millions, Lucky for Life, Cash5, Play4, Play3, and Lotto!
How old do I have to be to play the Connecticut Lottery?
You must be 18 or older to purchase and redeem lottery tickets.
Are Connecticut Lottery prizes taxable?
The Connecticut Lottery reports winnings of $600 or more and at least 300 times the wager value to the IRS. The lottery also withholds both state and federal taxes for certain prizes. See our Tax Information section for more details.
Can I remain anonymous if I win a lottery prize?
In Connecticut, all winners' names, cities, and prize amounts are kept as public records. However, winners with a valid protective order or Address Confidentiality Program authorization card can remain anonymous.
We suggest that you consult a lawyer before claiming any big prizes, however, as it may be possible to claim your prize through a trust to retain your anonymity.
What happens if my ticket is stolen or lost or damaged?
Lottery tickets cannot be replaced. Always sign the back of your ticket as soon as you get it and keep it safe.
Where do the Connecticut Lottery funds go?
Money from lottery ticket sales goes toward the state's general fund, which provides funding for human services, hospitals, education, and conservation.
Where can I find results for Connecticut on a particular day of the week?
Use the following links to find results for the day you are looking for:
Sunday, Monday, Tuesday, Wednesday, Thursday, Friday and Saturday.
Claiming Prizes
Here's the process for claiming Connecticut Lottery prizes.
To claim a prize by mail, send the signed winning ticket and a copy of two valid IDs to:
Connecticut Lottery Claims Dept
777 Brook Street
Rocky Hill, CT 06067
Keep a copy of all claim documents for your records.

LOTTERY GAMES BY STATE
Alabama – Arizona – Arkansas – California – Colorado – Connecticut – Delaware – Florida – Georgia – Idaho – Illinois – Indiana – Iowa – Kansas – Kentucky – Louisiana – Maine – Maryland – Massachusetts – Michigan – Minnesota – Mississippi – Missouri – Montana – Nebraska – New Hampshire – New Jersey – New Mexico – New York – North Carolina – North Dakota – Ohio – Oklahoma – Oregon – Pennsylvania – Rhode Island – South Carolina – South Dakota – Tennessee – Texas – Vermont – Virginia – Washington – West Virginia – Wisconsin – Wyoming
MULTI-STATE LOTTERY GAMES
Powerball – Mega Millions – Lucky for Life – Cash4Life – Gimme 5 – Lotto America – 2by2 – Tri-State Megabucks
Order Now – Lottery Numbers – Coupon Code – FAQ – Contact Us