Illinois Lottery Numbers and Results
Looking for Illinois Lottery Numbers and Results?  The Illinois Lottery was launched in 1974. The first instant-win games debuted in 1975.  Click here for the latest Illinois lottery numbers and results. 
In 1985, the Illinois Lottery started allocating profits from ticket sales to funding public schools. In 2012, Illinois became the first state to offer residents the opportunity to purchase lottery tickets online. Today, the Illinois Lottery also raises funds for infrastructure and other causes. The state also features instant-win games dedicated to raising funds for veterans, people living with HIV/AIDS, and cancer and multiple sclerosis research.
To play online, you must be an Illinois resident.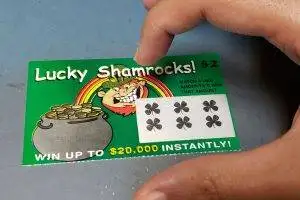 Our funny fake lottery tickets are realistic looking with guaranteed jackpots!
You will receive a set of 10 fake winning lottery tickets

Can I remain anonymous if I win a lottery prize?
No. The Illinois Lottery makes public each winner's name, home city, and amount won. Addresses and telephone numbers are not published, however.
We suggest that you consult a lawyer before claiming any big prizes, as it may be possible to claim your prize through a trust to retain anonymity.
Are Illinois Lottery prizes taxable?
Yes. You need to pay both state and federal taxes on lottery winnings, so it's a good idea to contact a financial planner or tax expert when you win. See our Tax Information section for more details.
How old must I be to play the Illinois Lottery?
You must be 18 or older to purchase lottery tickets and redeem your winnings. You also need to be a current Illinois resident to purchase tickets online.
Can I buy lottery tickets in advance?
Yes, you can purchase most Illinois Lottery game tickets in advance.
Where do Illinois Lottery funds go?
Profits from Illinois Lottery games go toward the state's public education and capital projects and a range of other causes.
Can I buy lottery tickets by mail, phone, or online?
You can play online, but you cannot purchase tickets over the phone or by mail. To buy your tickets online, create an account on the Illinois Lottery website or app and transfer funds to your account using a debit or credit card.
Which Illinois Lottery games can I play online?
You can play Powerball, Mega Millions, Lotto, Lucky Day Lotto, Pick 3, and Pick 4 online.
How long do I have to collect my winnings?
You have 365 days from the date of the draw to claim your winnings.
What happens if my ticket is lost or damaged?
The Illinois Lottery is not responsible for lost, damaged, or stolen tickets. Keep tickets in a safe place. Signing your ticket helps prove you own it in case you lose it.
Where can I find results for Illinois on a particular day of the week?
Use the following links to find results for the day you are looking for:
Sunday, Monday, Tuesday, Wednesday, Thursday, Friday and Saturday.
Claiming Prizes
Here's the process for claiming Illinois Lottery prizes.
In-person claims at any of the Illinois claim centers require an appointment. Visit the Illinois Lottery website to schedule your appointment.
Whenever online winnings cause your account balance to exceed $2,500, excess winnings will be sent to you via check.
To claim a prize by mail, use USPS registered mail with a return address and send the signed winning ticket and a completed claim form to:
Illinois Lottery Claims Department
P.O. Box 19080
Springfield, Illinois 62794-9912
Keep a copy of all claim documents for your records.

LOTTERY GAMES BY STATE
Alabama – Arizona – Arkansas – California – Colorado – Connecticut – Delaware – Florida – Georgia – Idaho – Illinois – Indiana – Iowa – Kansas – Kentucky – Louisiana – Maine – Maryland – Massachusetts – Michigan – Minnesota – Mississippi – Missouri – Montana – Nebraska – New Hampshire – New Jersey – New Mexico – New York – North Carolina – North Dakota – Ohio – Oklahoma – Oregon – Pennsylvania – Rhode Island – South Carolina – South Dakota – Tennessee – Texas – Vermont – Virginia – Washington – West Virginia – Wisconsin – Wyoming
MULTI-STATE LOTTERY GAMES
Powerball – Mega Millions – Lucky for Life – Cash4Life – Gimme 5 – Lotto America – 2by2 – Tri-State Megabucks
Order Now – Lottery Numbers – Coupon Code – FAQ – Contact Us