Description
Fake Christmas Lottery Tickets
Christmas Holiday Fake Lottery Tickets Scratch Off Lottery Tickets
Our fake lottery tickets will fool all your friends
All fake scratch off lottery tickets have guaranteed winning jackpots
Fool your friends with these fake lottery tickets
These fake lotto tickets are so funny, they will have you rolling on the
floor laughing in tears! Perfect for holiday gifts and family parties!
Fake Lottery Tickets will make your friends will faint after they think they have just won the ultimate $50,000 jackpot! These scratch off fake lottery tickets look exactly like the real instant scratch off tickets you see in stores!
You may have seen these gag fake lottery tickets on the show "Americas Funniest Home Videos". You will receive 2 Camelot's Gold Fake Lottery Ticket, 2 Lucky Shamrocks Fake Lottery Ticket, 2 Let 'em Roll Fake Lottery Ticket, 2 Fast Money Fake Lottery Ticket, and 2 Joker's Wild Fake Ticket.
This is a great April Fools gag, birthday prank, or a dirty joke for the compulsive gambler!
Our New full color fake lotto tickets look and feel completely like the real scratch tickets you would buy in the lottery stores. When people scratch off the front of the ticket, they'll be shocked to see they've won $10,000, $20,000 or even $50,000. Every ticket is an automatic winner! People can't wait to tell their friends the good news.
But when they read the fine print on the back, they'll know they've been duped. Great way to fool friends, co-workers, or anyone who plays the lottery. Demand for these lottery tickets has been huge since we introduced them a while ago. Order a set of these hillarious fake lottery tickets today. You will never forget the facial expression of the lucky person you give these fake winning tickets to! Order today and have a blast!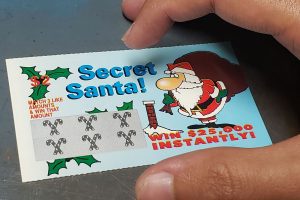 Your fake lottery tickets are guaranteed to be shipped same day you place order!
You will receive a set of 8 fake lottery tickets
(2 each of our 4 realistic scratch off lottery tickets)
LOTTERY GAMES BY STATE
Alabama – Arizona – Arkansas – California – Colorado – Connecticut – Delaware – Florida – Georgia – Idaho – Illinois – Indiana – Iowa – Kansas – Kentucky – Louisiana – Maine – Maryland – Massachusetts – Michigan – Minnesota – Mississippi – Missouri – Montana – Nebraska – New Hampshire – New Jersey – New Mexico – New York – North Carolina – North Dakota – Ohio – Oklahoma – Oregon – Pennsylvania – Rhode Island – South Carolina – South Dakota – Tennessee – Texas – Vermont – Virginia – Washington – West Virginia – Wisconsin – Wyoming
MULTI-STATE LOTTERY GAMES
Powerball – Mega Millions – Lucky for Life – Cash4Life – Gimme 5 – Lotto America – 2by2 – Tri-State Megabucks
Order Now – Lottery Numbers – Coupon Code – FAQ – Contact Us