Description
Fake Parking Tickets
Our fake parking tickets will be just what you are looking for everytime you see someone who is parked somewhere you think is wrong!
Fool your friends with these funny parking tickets
These funny parking tickets are so funny, they will have you rolling on the
ground laughing in tears! Perfect for all those annoying parked cars!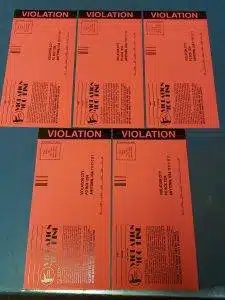 These tickets are an absolute riot! A great way to show an inconsiderate motorist what you think of them. Slap one on the windshield of rude parkers, co-workers and neighbors, they will think they received a real parking ticket. Also, these tickets are fun to use on your family / friends as a joke. Just put one on their car right before they are about to leave, it?s so funny to watch them run out to the car thinking they have received a real parking ticket. These tickets are of very high quality, each ticket is printed on thick card stock. Tickets measure approximately 7" high by 3.25" wide.
All funny parking tickets are guaranteed to scare your victims!!
Your fake parking tickets are guaranteed to be shipped same day you place order!
You will receive a set of 5 fake parking tickets
Only $4.95 for all 5 fake parking tickets
LOTTERY GAMES BY STATE
Alabama – Arizona – Arkansas – California – Colorado – Connecticut – Delaware – Florida – Georgia – Idaho – Illinois – Indiana – Iowa – Kansas – Kentucky – Louisiana – Maine – Maryland – Massachusetts – Michigan – Minnesota – Mississippi – Missouri – Montana – Nebraska – New Hampshire – New Jersey – New Mexico – New York – North Carolina – North Dakota – Ohio – Oklahoma – Oregon – Pennsylvania – Rhode Island – South Carolina – South Dakota – Tennessee – Texas – Vermont – Virginia – Washington – West Virginia – Wisconsin – Wyoming
MULTI-STATE LOTTERY GAMES
Powerball – Mega Millions – Lucky for Life – Cash4Life – Gimme 5 – Lotto America – 2by2 – Tri-State Megabucks
Order Now – Lottery Numbers – Coupon Code – FAQ – Contact Us