Lotto America
Looking for information about Lotto America?  The current version of Lotto America was launched in November 2017 by the Multi-State Lottery Association (MUSL) as a replacement for Hot Lotto. Since then, it has grown to become one of the most played multi-state games in the U.S.
When are Lotto America draws held?
Draws are held every Wednesday and Saturday after 11:00 p.m. ET.
Where are the draws held?
Lotto America draws take place at the Florida Lottery studios in Tallahassee, Florida.
Where can I play this game?
You can play Lotto America in Delaware, Idaho, Iowa, Kansas, Maine, Minnesota, Montana, New Mexico, North Dakota, Oklahoma, South Dakota, Tennessee, and West Virginia.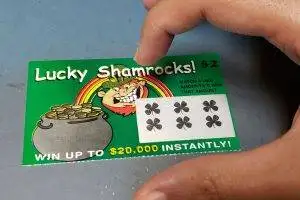 Our funny fake lottery tickets are realistic looking with guaranteed jackpots!
You will receive a set of 10 fake winning lottery tickets

What is the All Star Bonus?
The All Star Bonus is a randomly-drawn number that multiplies non-jackpot winnings by 2, 3, 4, or 5 times.
What is the Star Ball?
The Star Ball is the sixth ball selected in the drawing, numbered between 1 and 10. Matching it can add to your prize.
How do I play Lotto America?
Pick five numbers from 1 to 52, and then pick a Star Ball number from 1 to 10. For $1, you can add the All Star Bonus option.
What are the payout options for the jackpot?
Lotto America jackpot winners can choose to claim their prize as one lump sum cash payment or as an annuity of 30 payments made over 29 years.
What are the odds of winning the jackpot?
You have a 1 in 25,989,600 chance of winning the Lotto America jackpot.
What's the easiest prize to win?
Match just the Star Ball to win $2. With the All Star Bonus option active, this prize can increase to a maximum of $10.
How many prize categories does the game have?
There are nine prize categories in the Lotto America game.
The original Lotto*America game was launched in February of 1988 and was replaced by Powerball in April 1992.
The new Lotto America was launched in November 2017 and replaced Hot Lotto.
There are nine different ways to win with Lotto America.
Eight of the Lotto America prize categories are of a fixed value.
13 jurisdictions participate in Lotto America.
You must be 18 or older to play, except in Iowa where you must be 21 or older.
You can claim a Lotto America jackpot prize as a lump sum or as an annuity payment over a certain number of years.
The advertised jackpot amount is always the annuity sum before tax.
Click here for the latest Lotto America numbers and results

LOTTERY GAMES BY STATE
Alabama – Arizona – Arkansas – California – Colorado – Connecticut – Delaware – Florida – Georgia – Idaho – Illinois – Indiana – Iowa – Kansas – Kentucky – Louisiana – Maine – Maryland – Massachusetts – Michigan – Minnesota – Mississippi – Missouri – Montana – Nebraska – New Hampshire – New Jersey – New Mexico – New York – North Carolina – North Dakota – Ohio – Oklahoma – Oregon – Pennsylvania – Rhode Island – South Carolina – South Dakota – Tennessee – Texas – Vermont – Virginia – Washington – West Virginia – Wisconsin – Wyoming
MULTI-STATE LOTTERY GAMES
Powerball – Mega Millions – Lucky for Life – Cash4Life – Gimme 5 – Lotto America – 2by2 – Tri-State Megabucks
Order Now – Lottery Numbers – Coupon Code – FAQ – Contact Us