Louisiana Lottery Numbers and Results
Looking for Louisiana Lottery Numbers and Results?  The Louisiana Lottery was launched in 1991 to generate revenue for the state without increasing taxes. Scratch-off games were the first to go on sale. The state added Powerball in 1995, and Mega Millions in 2011. Click here to see the latest Louisiana lottery numbers and results.
Ticket sale proceeds help fund K-12 education in Louisiana. For every dollar made in lottery ticket sales, at least 35 cents are transferred to state education funds.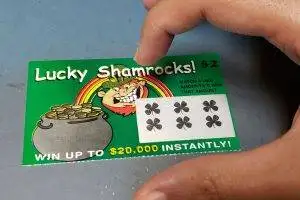 Our funny fake lottery tickets are realistic looking with guaranteed jackpots!
You will receive a set of 10 fake winning lottery tickets

Can I purchase tickets by mail, online, or phone?
No. You must purchase your lottery tickets from licensed retailers within the state.
Can I remain anonymous if I win a lottery prize?
If you win $600 or more, your name, prize details, and city of residence are made public.
Depending on how much you win, as well as the media and public interest, you may have to make your identity known. We suggest that you consult a lawyer before claiming any big prizes, however, as it may be possible to claim your prize through a trust to retain anonymity.
What happens if my ticket is lost or damaged?
The Louisiana Lottery is not responsible for lost, damaged, or stolen tickets. Keep tickets in a safe place. Signing your ticket helps prove you own it in case you lose it.
How old must I be to play the Louisiana Lottery?
You must be 21 or older to purchase lottery tickets and redeem your winnings.
What lottery games can I play in Louisiana?
The Louisiana Lottery offers Pick 3, Pick 4, Pick 5, Powerball, Lotto, Easy 5, and Mega Millions.
How long do I have to claim my winnings?
You have 180 days from the date of the draw to claim your lottery winnings.
Are Louisiana Lottery prizes taxable?
Lottery winnings in Louisiana are subject to both federal and state income taxes.
The Louisiana Lottery withholds a part of certain lottery winnings for tax purposes and reports any prize over $600 to the IRS and the Louisiana Department of Revenue and Taxation.
Can I buy lottery tickets in advance?
Yes, you can purchase tickets for multiple consecutive draws for all the games offered in the state.
Where do Louisiana Lottery funds go?
A large portion of proceeds from ticket sales go toward K-12 public education and funding gambling addiction programs.
Claiming Prizes
Here's the process for claiming Louisiana Lottery prizes.
All Louisiana Lottery claim centers are open for walk-in prize claims (no appointment needed).
To claim a prize by mail, complete the form on the back of the winning ticket, sign it, and make a photocopy of both the front and the back. Then mail it along with a completed claim form and a copy of your ID to:
Louisiana Lottery Corporation Headquarters
ATTN: Prize Validations
P.O. Box 90010
Baton Rouge, LA 70879-0010
Keep a copy of all claim documents for your records.

LOTTERY GAMES BY STATE
Alabama – Arizona – Arkansas – California – Colorado – Connecticut – Delaware – Florida – Georgia – Idaho – Illinois – Indiana – Iowa – Kansas – Kentucky – Louisiana – Maine – Maryland – Massachusetts – Michigan – Minnesota – Mississippi – Missouri – Montana – Nebraska – New Hampshire – New Jersey – New Mexico – New York – North Carolina – North Dakota – Ohio – Oklahoma – Oregon – Pennsylvania – Rhode Island – South Carolina – South Dakota – Tennessee – Texas – Vermont – Virginia – Washington – West Virginia – Wisconsin – Wyoming
MULTI-STATE LOTTERY GAMES
Powerball – Mega Millions – Lucky for Life – Cash4Life – Gimme 5 – Lotto America – 2by2 – Tri-State Megabucks
Order Now – Lottery Numbers – Coupon Code – FAQ – Contact Us