Massachusetts Lottery Numbers and Results
Looking for Massachusetts Lottery Numbers and Results?  Massachusetts Lottery tickets first went on sale in 1972. In 1991, the popular Mass Cash lottery game was introduced. Massachusetts and five other states launched The Big Game in 1996., Powerball debuted in the state in 2010. The Massachusetts Lottery launched Lucky for Life in 2012 and Keno in 2013, offering players the opportunity to win something every four minutes. Click here to see the latest Massachusetts lottery numbers and results.
Since its inception, the Massachusetts Lottery has returned over $27 billion of dollars in net profits toward funding unrestricted local aid.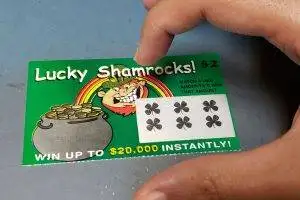 Our funny fake lottery tickets are realistic looking with guaranteed jackpots!
You will receive a set of 10 fake winning lottery tickets

How old do I have to be to play the Massachusetts Lottery?
Players must be 18 or older to purchase Massachusetts Lottery tickets. If an adult purchases a winning ticket and claims it in the name of a minor, the minor can receive the prize.
Can I remain anonymous if I win a lottery prize?
No. The state makes public your name, place of residence, winning amount, photo, game played, and the date of your claim. However, we suggest you consult a legal professional before claiming any big lottery prize, as it may be possible to claim your prize through a trust to retain anonymity.
What happens if my ticket is lost or damaged?
Contact the Massachusetts Lottery Claims Department. Remember to always sign the back of your ticket, which helps prove you own it in the event it's stolen or lost.
Where do the Massachusetts Lottery ticket sales go?
In addition to covering prizes, profits from ticket sales are distributed among cities and towns in the state for unrestricted local aid. Local governments can use the money for whatever programs they choose.
Are Massachusetts Lottery prizes taxable?
Lottery winnings in Massachusetts are subject to both state and federal income tax, and the Massachusetts Lottery withholds a part of some lottery winnings for tax purposes.
What lottery games can I play in Massachusetts?
In Massachusetts, players can choose from Mass Cash, Megabucks Doubler, The Numbers Game, Lucky for Life, Mega Millions, and Powerball.
How long do I have to collect my winnings?
Winners in Massachusetts have one year from the date of the draw to claim their prizes.
Can I buy lottery tickets in advance?
Yes, you can purchase tickets for consecutive draws in advance. Check our Advanced Draws section for further details.
Can I purchase tickets online, by mail, or by phone?
No. Lottery tickets are sold at authorized retailers only.
Claiming Prizes
Here's the process for claiming Massachusetts Lottery prizes.
To claim a prize by mail, send the signed winning ticket, a completed claim form, proof of your Social Security number, and a copy of your ID to:
Massachusetts State Lottery
P.O. Box 859036
Braintree, MA 02185-9036
Keep a copy of all claim documents for your records.

LOTTERY GAMES BY STATE
Alabama – Arizona – Arkansas – California – Colorado – Connecticut – Delaware – Florida – Georgia – Idaho – Illinois – Indiana – Iowa – Kansas – Kentucky – Louisiana – Maine – Maryland – Massachusetts – Michigan – Minnesota – Mississippi – Missouri – Montana – Nebraska – New Hampshire – New Jersey – New Mexico – New York – North Carolina – North Dakota – Ohio – Oklahoma – Oregon – Pennsylvania – Rhode Island – South Carolina – South Dakota – Tennessee – Texas – Vermont – Virginia – Washington – West Virginia – Wisconsin – Wyoming
MULTI-STATE LOTTERY GAMES
Powerball – Mega Millions – Lucky for Life – Cash4Life – Gimme 5 – Lotto America – 2by2 – Tri-State Megabucks
Order Now – Lottery Numbers – Coupon Code – FAQ – Contact Us