Tri-State Megabucks Lottery
Looking for the Tri-State Megabucks Lottery?  Being the first multi-state game for the Tri-State Lottery, the game has undergone many changes until it became the game that we know and love today. Click here to see the latest Tri State Lottery numbers and results.
When are Tri-State Megabucks draws held?
Draws are held every Wednesday and Saturday at 7:59 p.m. ET.
Where are the draws held?
Tri-State Megabucks draws are held in Concord, New Hampshire.
Where can I play this game?
You can play Tri-State Megabucks in Maine, New Hampshire, and Vermont.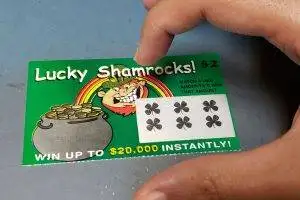 Our funny fake lottery tickets are realistic looking with guaranteed jackpots!
You will receive a set of 10 fake winning lottery tickets

What is the Megaball?
The Megaball is the sixth ball, with a range between 1 and 10. Matching this number can add more prizes.
How can I claim the Tri-State Megabucks jackpot?
Jackpot winners can choose to claim their prizes as a 30-year annuity, with a value close to the advertised jackpot amount, or in a one-time lump sum cash payment of smaller value.
What is the jackpot in this game?
The jackpot starts at $1 million and increases until someone wins.
What are the odds of winning the jackpot?
You have a 1 in 4,496,388 chance of winning the jackpot.
Will I have to share my jackpot winnings?
If there are multiple jackpot winners, the prize money will be equally divided among them all.
How many prize categories does the game have?
There are nine prize categories for the Tri-State Megabucks game.
The game was launched by the Tri-State Lottery in 1985, becoming the first multi-state game in the country.
The Tri-State Lottery was the first multi-jurisdictional lottery and included Maine, New Hampshire, and Vermont.
Other states have games with the same name, or similar ones, such as Oregon's Megabucks, Wisconsin's Megabucks, Massachusetts's Megabucks Doubler, and Indiana's Megabucks scratch-off game.

LOTTERY GAMES BY STATE
Alabama – Arizona – Arkansas – California – Colorado – Connecticut – Delaware – Florida – Georgia – Idaho – Illinois – Indiana – Iowa – Kansas – Kentucky – Louisiana – Maine – Maryland – Massachusetts – Michigan – Minnesota – Mississippi – Missouri – Montana – Nebraska – New Hampshire – New Jersey – New Mexico – New York – North Carolina – North Dakota – Ohio – Oklahoma – Oregon – Pennsylvania – Rhode Island – South Carolina – South Dakota – Tennessee – Texas – Vermont – Virginia – Washington – West Virginia – Wisconsin – Wyoming
MULTI-STATE LOTTERY GAMES
Powerball – Mega Millions – Lucky for Life – Cash4Life – Gimme 5 – Lotto America – 2by2 – Tri-State Megabucks
Order Now – Lottery Numbers – Coupon Code – FAQ – Contact Us