Virginia Lottery Numbers and Results
Looking for Virginia Lottery Numbers and Results?  The Virginia Lottery was created in 1987 after voters approved a state-operated lottery. Click here to see the latest Virginia lottery numbers and results.
Players can choose from various drawings, scratchers, "Print n Play" tickets, and online games. Tickets for several games can be purchased online. After funding prizes, a large portion of ticket sale profits go toward K-12 education in the state.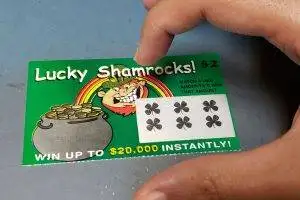 Our funny fake lottery tickets are realistic looking with guaranteed jackpots!
You will receive a set of 10 fake winning lottery tickets

How long do I have to collect my winnings?
You have 180 days from the date of the draw to collect your winnings.
What happens if my ticket is lost, damaged, or stolen?
The Virginia Lottery is not responsible for lost, damaged, or stolen tickets. Keep tickets in a safe place. Signing your ticket helps prove you own it in case you lose it.
Can I buy tickets by mail, phone, online?
You can purchase online subscriptions for Powerball, Mega Millions, and Cash4Life. Other games are only available at retailers. You can't purchase tickets by mail or phone.
Are Virginia Lottery winnings taxable?
Yes, lottery winnings are subject to state and federal income taxes.
Winnings over $600 will be reported to federal and state tax agencies, and winners will receive a W2-G form when claiming their prize. The Virginia Lottery also withholds a percentage of certain lottery winnings for tax purposes. Check our Tax Information section for more details.
How old do I have to be to play the Virginia Lottery?
You must be 18 or older to purchase and redeem lottery tickets.
What lottery games can I play in Virginia?
The Virginia Lottery includes the following games: Pick 3, Pick 4, Bank a Million, Cash 5, Powerball, Cash4Life, and Mega Millions.
Can I remain anonymous if I win a lottery prize?
As of 2019, lottery winners in Virginia can remain anonymous when collecting prizes over $10 million. The details of prize winners who win between $600 and $10 million, however, are still made public record.
Where do Virginia Lottery funds go?
Proceeds from the Virginia Lottery's ticket sales go toward K-12 education in the state.
Where can I find results for Virginia on a particular day of the week?
Use the following links to find results for the day you are looking for:
Sunday, Monday, Tuesday, Wednesday, Thursday, Friday and Saturday.
Claiming Prizes
Here's the process for claiming Virginia Lottery prizes.
The Virginia Lottery Headquarters is closed until further notice.
If your winning ticket's prize claim period expires during the state of emergency, you'll still be able to claim your prize if you file a prize claim or claim it in person by July 30, 2021.
To claim a prize by mail, complete the form on the back of your ticket, sign it, and send the ticket along with a completed claim form and proof of your Social Security number to:
Virginia Lottery Claims
P.O. Box 1254
Richmond, VA 23218-1254
When claiming prizes over $600 by mail, you must also include a copy of your ID.
Keep a copy of all claim documents for your records.

LOTTERY GAMES BY STATE
Alabama – Arizona – Arkansas – California – Colorado – Connecticut – Delaware – Florida – Georgia – Idaho – Illinois – Indiana – Iowa – Kansas – Kentucky – Louisiana – Maine – Maryland – Massachusetts – Michigan – Minnesota – Mississippi – Missouri – Montana – Nebraska – New Hampshire – New Jersey – New Mexico – New York – North Carolina – North Dakota – Ohio – Oklahoma – Oregon – Pennsylvania – Rhode Island – South Carolina – South Dakota – Tennessee – Texas – Vermont – Virginia – Washington – West Virginia – Wisconsin – Wyoming
MULTI-STATE LOTTERY GAMES
Powerball – Mega Millions – Lucky for Life – Cash4Life – Gimme 5 – Lotto America – 2by2 – Tri-State Megabucks
Order Now – Lottery Numbers – Coupon Code – FAQ – Contact Us