Arizona Lottery Numbers and Results
Are you looking for Arizona Lottery Numbers and Results?  Arizona was the first state to the west of the Mississippi to approve a lottery in 1980. The Arizona Lottery was officially launched in 1981.
Click here to see the latest Arizona Lottery results.
In 2002, a vote to extend the lottery for another 10 years was passed, with 73% in favor. In 2010, the lottery was extended to 2035. Arizona partnered with Powerball in 1994 and Mega Millions followed in 2010.
Powerball and Mega Millions, both multi-state lotteries, are now the most popular games in the state. Players also enjoy The Pick, a state lottery with a jackpot starting at $1 million and $1 tickets. Several smaller jackpot games are on offer as well, including Pick 3, Triple Twist, and Fantasy 5.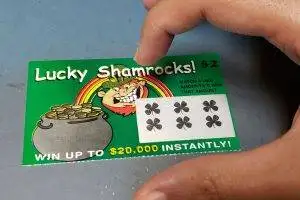 Our funny fake lottery tickets are realistic looking with guaranteed jackpots!
You will receive a set of 10 fake winning lottery tickets

The Arizona Lottery contributes millions of dollars from ticket sales to benefit various state projects, including homeless shelters and the state's general fund.
How do I purchase Arizona Lottery tickets?
Arizona Lottery tickets can only be bought from authorized retailers. Tickets can't be purchased online or over the phone.
How old do I have to be to buy lottery tickets in Arizona?
You need to be 21 or older to play.
What games can I play in Arizona?
Players have an array of games to choose from, including The Pick, Fantasy 5, Pick 3, Triple Twist, Powerball, and Mega Millions.
How long do I have to claim a prize from the Arizona Lottery?
The Arizona Lottery gives winners 180 days from the date of the draw to claim their prizes. If a ticket has expired, you won't be able to redeem it.
Can I keep my identity secret if I win a lottery jackpot?
If you win lottery prizes of $600 or more, your information will be kept anonymous for up to 90 days. If you win $100,000 or more, you can choose to keep your name confidential forever. However, your city and county of residence will be made public.
Keep in mind that the Arizona Lottery does not allow blind trusts to claim prizes, in order to ensure that lottery winners do not owe the state a debt (which would be withheld from the prize money).
Are Arizona Lottery prizes taxable?
Lottery winnings in Arizona are subject to both federal and state income taxes and must be reported to the Internal Revenue Service. Check out the Tax Information section for more details.
Can I buy lottery tickets in advance?
Yes. Depending on the game, you can purchase tickets for up to 10 or 12 games in advance.
What happens if I damage or lose my winning ticket?
The lottery can't be held responsible if you lose or damage your lottery tickets. Remember that lottery tickets are bearer instruments, meaning whoever has it is considered the owner, so make sure that you fill out the back of your tickets as soon as you purchase them.
Where does the lottery money go?
Revenue from the sale of lottery tickets in Arizona go toward state funds, aiding the homeless, and various other initiatives.
Where can I find results for Arizona on a particular day of the week?
Use the following links to find results for the day you are looking for:
Sunday, Monday, Tuesday, Wednesday, Thursday, Friday and Saturday.
Claiming Prizes
Here's the process for claiming Arizona Lottery prizes.
To claim a prize by mail, send the signed winning ticket, a completed claim form, and a copy of your ID to:
Arizona Lottery
P.O. Box 2913
Phoenix, AZ 85062
Keep a copy of all claim documents for your records.

LOTTERY GAMES BY STATE
Alabama – Arizona – Arkansas – California – Colorado – Connecticut – Delaware – Florida – Georgia – Idaho – Illinois – Indiana – Iowa – Kansas – Kentucky – Louisiana – Maine – Maryland – Massachusetts – Michigan – Minnesota – Mississippi – Missouri – Montana – Nebraska – New Hampshire – New Jersey – New Mexico – New York – North Carolina – North Dakota – Ohio – Oklahoma – Oregon – Pennsylvania – Rhode Island – South Carolina – South Dakota – Tennessee – Texas – Vermont – Virginia – Washington – West Virginia – Wisconsin – Wyoming
MULTI-STATE LOTTERY GAMES
Powerball – Mega Millions – Lucky for Life – Cash4Life – Gimme 5 – Lotto America – 2by2 – Tri-State Megabucks
Order Now – Lottery Numbers – Coupon Code – FAQ – Contact Us