Arkansas Lottery Numbers and Results
Are you looking for Arkansas Lottery Numbers and Results?  The Arkansas Lottery was approved in November 2008.  Click here to see the latest Arkansas Lottery results.
Soon after being introduced, the Arkansas Lottery joined the two national lotteries, Mega Millions and Powerball.
Besides the national lotteries, the Arkansas Lottery offers several state games, including Cash 3, Cash 4, Lucky for Life, and Natural State Jackpot.
A majority of the lottery's profits go toward education scholarships in the state. To date, millions of dollars have been contributed to in-state college scholarships. Additionally, lottery players have taken home billions of dollars, and registered lottery retailers have earned millions in commissions.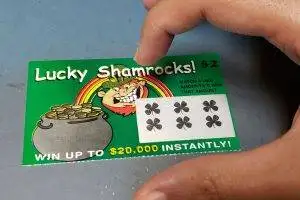 Our funny fake lottery tickets are realistic looking with guaranteed jackpots!
You will receive a set of 10 fake winning lottery tickets

How old do I have to be to play the Arkansas Lottery?
You need to be 18 or older to play.
What games can I play in Arkansas?
You can choose from Lucky for Life, Natural State Jackpot, Cash 3, Cash 4, Powerball, and Mega Millions.
Can I purchase tickets in advance?
You can buy lottery tickets for two to 20 consecutive draws in advance, depending on which game you want to play.
Where does the lottery money go?
Net proceeds from ticket sales go toward college scholarships.
When can I collect my winnings?
You have 180 days from the date of the draw to claim your winnings.
What happens if my ticket is lost or stolen?
The Arkansas Lottery cannot be held responsible if you lose or damage your lottery ticket, and tickets cannot be replaced. Always sign the back of your ticket to prevent theft. If you don't plan on cashing your ticket right away, fill out the back of the ticket, just in case you lose it.
Are Arkansas Lottery prizes taxable?
You'll need to pay both federal and state taxes on all winnings of more than $4,999.
Can I purchase tickets online or over the phone?
No. You can only purchase tickets from licensed retailers in Arkansas.
Can I remain anonymous if I win a lottery prize?
Yes, in Arkansas, winners of prizes over $500,000 can choose to remain anonymous.
Where can I find results for Arkansas on a particular day of the week?
Use the following links to find results for the day you are looking for:
Sunday, Monday, Tuesday, Wednesday, Thursday, Friday and Saturday.
Claiming Prizes
Here's the process for claiming Arkansas Lottery prizes.
No in-person claims will be processed after 4:15 p.m.
To claim a prize by mail, send the winning ticket, a completed claim form, and a copy of your ID to:
Arkansas Scholarship Lottery Claim Center
P.O. Box 3838
Little Rock, AR 72203
Keep a copy of all claim documents for your records.

LOTTERY GAMES BY STATE
Alabama – Arizona – Arkansas – California – Colorado – Connecticut – Delaware – Florida – Georgia – Idaho – Illinois – Indiana – Iowa – Kansas – Kentucky – Louisiana – Maine – Maryland – Massachusetts – Michigan – Minnesota – Mississippi – Missouri – Montana – Nebraska – New Hampshire – New Jersey – New Mexico – New York – North Carolina – North Dakota – Ohio – Oklahoma – Oregon – Pennsylvania – Rhode Island – South Carolina – South Dakota – Tennessee – Texas – Vermont – Virginia – Washington – West Virginia – Wisconsin – Wyoming
MULTI-STATE LOTTERY GAMES
Powerball – Mega Millions – Lucky for Life – Cash4Life – Gimme 5 – Lotto America – 2by2 – Tri-State Megabucks
Order Now – Lottery Numbers – Coupon Code – FAQ – Contact Us