Cash4Life Lottery
Looking for Cash4Life Lottery numbers and results?  Cash4Life was collaboratively designed by the New York Lottery and New Jersey Lottery. The first Cash4Life tickets went on sale on June 13, 2014.
The first Cash4Life draw was held for three days, starting on June 16.
When are Cash4Life draws held?
Draws are held every night at 9:00 p.m. ET.
Where do the Cash4Life draws take place?
Draws are held in Lawrenceville, New Jersey.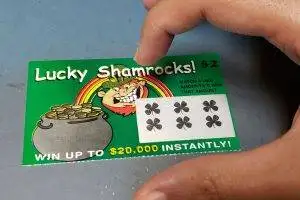 Our funny fake lottery tickets are realistic looking with guaranteed jackpots!
You will receive a set of 10 fake winning lottery tickets

In which states can I play this game?
You can play Cash4Life in nine states: Florida, Georgia, Indiana, Maryland, Missouri, New Jersey, New York, Pennsylvania, Virginia, and Tennessee.
How do I play Cash4Life?
Pick five numbers from 1 to 60 and a sixth Cash Ball from 1 to 4, or opt for Quick Pick to get random numbers. Choose how many draws to enter. Check if you've won.
What is the Cash Ball?
The Cash Ball is the sixth ball, with a value between 1 and 4. Matching this number can add more prizes.
What is the top prize?
The top prize is $1,000 a day for life (paid out annually).
What payout options do winners have?
Top and second prize winners can choose a single cash option or an annuity option, in which they receive annual payments for a minimum of 20 years. If there are multiple winners, the prize amount will be divided equally among them.
Why is the cash payout option less than the annuity?
The annuity takes into consideration not only the cash value of the prize but also the interest that it will generate over time.
What are the odds of winning the top prize?
You have a 1 in 21,846,048 chance of winning the Cash4Life top prize.
How many prize categories does the game have?
Cash4Life has nine different prize categories.
What is the Cash4Life Doubler?
Available just in New Jersey, the Doubler is a multiplier that doubles all but the top two prize categories, and it costs an extra $1.
What is EZ Match?
EZ Match is an instant win add-on available in Missouri that costs an extra $1. If EZ Match is selected, the player will receive five EZ Match numbers printed below the Cash4Life numbers. If any of the white Cash4Life numbers match any of the EZ Match numbers, the player instantly wins the prize amount shown next to that EZ Match number.
What is Quick Cash?
Available only in Tennessee, Quick Cash is an option that costs $1. It offers a chance to win prizes instantly by matching any of the Quick Cash numbers printed on your ticket with any of your Cash4Life numbers.
The Multi-State Lottery Association (MUSL) had a game with the same name that ran from March 30, 1998, to September 7, 2000.
Players in New Jersey can pay an extra $1 to double prize amounts with the Doubler. This excludes the top two prizes.
When buying tickets, in New Jersey, players must choose the annuity or cash option for their winnings. After winning, those who chose annuity will be able to switch to cash but not the other way around.
Players in Missouri can pay an extra $1 to add EZ Match to their tickets.
In Tennessee, for a shot at an instant prize, you can add Quick Cash to your ticket for $1.

LOTTERY GAMES BY STATE
Alabama – Arizona – Arkansas – California – Colorado – Connecticut – Delaware – Florida – Georgia – Idaho – Illinois – Indiana – Iowa – Kansas – Kentucky – Louisiana – Maine – Maryland – Massachusetts – Michigan – Minnesota – Mississippi – Missouri – Montana – Nebraska – New Hampshire – New Jersey – New Mexico – New York – North Carolina – North Dakota – Ohio – Oklahoma – Oregon – Pennsylvania – Rhode Island – South Carolina – South Dakota – Tennessee – Texas – Vermont – Virginia – Washington – West Virginia – Wisconsin – Wyoming
MULTI-STATE LOTTERY GAMES
Powerball – Mega Millions – Lucky for Life – Cash4Life – Gimme 5 – Lotto America – 2by2 – Tri-State Megabucks
Order Now – Lottery Numbers – Coupon Code – FAQ – Contact Us