Lucky for Life Lottery
Looking for Lucky for Life Lottery?  Lucky for Life began in Connecticut, and it has spread to a total of 25 jurisdictions over the years, making it one of the most popular games in the U.S., while also being one of the few games that have annuitized prizes for life!
When are Lucky for Life draws held?
Draws are held every day at 10:38 p.m. ET.
Where do the Lucky for Life draws take place?
Lucky for Life draws are held in Hartford, Connecticut.
Where can I play this game?
You can play Lucky for Life in Arkansas, Colorado, Connecticut, Delaware, District of Columbia, Idaho, Iowa, Kansas, Kentucky, Maine, Massachusetts, Michigan, Montana, Nebraska, New Hampshire, North Carolina, North Dakota, Ohio, Oklahoma, Rhode Island, South Dakota, Vermont, and Wyoming.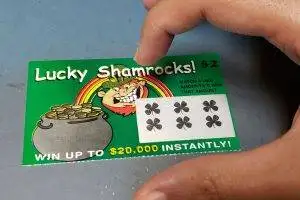 Our funny fake lottery tickets are realistic looking with guaranteed jackpots!
You will receive a set of 10 fake winning lottery tickets

What is the Lucky Ball?
The Lucky Ball is a sixth ball between 1 and 18. Matching it earns a prize of at least $4, depending on if you matched other numbers, too.
What's the top prize in the game?
The top prize is $1,000 a day for life, or $5,750,000 as a one-time payment.
How are Lucky for Life winnings paid out?
If you win the first or second prize, you can claim them as a one-off cash lump sum or as a regular annuity payment. You will receive regular payments for life or for a minimum of 20 years, whichever is longer. The top prize is paid weekly and the second prize is paid annually.
What are the odds of winning the top prize?
You have a 1 in 30,821,472 chance of matching all five numbers and the Lucky Ball to win the top prize.
How many Lucky for Life prize categories are there?
There are 10 prize categories.
What are the overall chances of winning a prize?
You have a 1 in 7.8 chance of winning any prize.
The original game was launched in 2009 as Lucky-4-Life in Connecticut.
The 4 in the name was a reference to the original number matrix of 4/39 + 1/19.
When the 5/43 + 1/43 matrix was in use, no one won the Lucky for Life top prize.
There are 10 ways to win with Lucky for Life, and it's one of the few games in the U.S. to have two lifetime prizes.
The top prize for Lucky for Life is $1,000 a day for life.
23 jurisdictions participate in the Lucky for Life game.
The top two prize categories may be shared in cases where there are multiple winners in those categories.
You must be 18 or older to play except in Nebraska (19 or older) and Iowa (21 or older).
You can claim your Lucky for Life main prize as a lump sum or as an annuity payment for life or for 20 years—whichever is longer.
Click here to see the latest Lucky for Life lottery numbers and results

LOTTERY GAMES BY STATE
Alabama – Arizona – Arkansas – California – Colorado – Connecticut – Delaware – Florida – Georgia – Idaho – Illinois – Indiana – Iowa – Kansas – Kentucky – Louisiana – Maine – Maryland – Massachusetts – Michigan – Minnesota – Mississippi – Missouri – Montana – Nebraska – New Hampshire – New Jersey – New Mexico – New York – North Carolina – North Dakota – Ohio – Oklahoma – Oregon – Pennsylvania – Rhode Island – South Carolina – South Dakota – Tennessee – Texas – Vermont – Virginia – Washington – West Virginia – Wisconsin – Wyoming
MULTI-STATE LOTTERY GAMES
Powerball – Mega Millions – Lucky for Life – Cash4Life – Gimme 5 – Lotto America – 2by2 – Tri-State Megabucks
Order Now – Lottery Numbers – Coupon Code – FAQ – Contact Us