Gimme 5 Lottery
Gimme 5 lottery is the newest Tri-State Lottery game. It's played three times a week in Maine, New Hampshire, and Vermont with a $100,000 jackpot. Click here to see the latest Gimme 5 lottery numbers and results.
When are draws held?
Draws are held Monday through Friday at 7:00 p.m. ET.
Where do the draws take place?
Gimmie 5 draws are held in Concord, New Hampshire.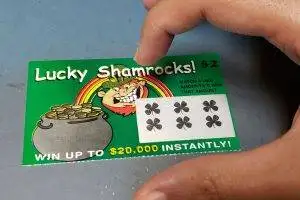 Our funny fake lottery tickets are realistic looking with guaranteed jackpots!
You will receive a set of 10 fake winning lottery tickets

How do I play Gimme 5?
Pick five numbers from 1 to 39, or choose Easy Pick for random numbers. Decide how many draws to enter (up to 30). After the draw, check if you've won.
In which states can I play Gimme 5?
You can play Gimme 5 in Maine, New Hampshire, and Vermont.
What is the top prize of the game?
Players can win up to $100,000.
What's the lowest prize?
By matching two numbers, players can win $2.
Will I have to share my winnings?
If there is more than one winner, the $100,000 top prize will be shared equally among all the winners.
What are the odds of winning the Gimme 5 top prize?
You have a 1 in 575,757 chance of winning the top prize.
Gimme 5 is the newest Tri-State Lottery draw game.
The game is owned and operated by the Tri-State Lotto Commission.
A maximum of 53% of each ticket sale goes toward the prize pool.
The top prize is always paid in cash.
In the case of multiple top prize winners on the same draw, the prize will be divided equally among them.

LOTTERY GAMES BY STATE
Alabama – Arizona – Arkansas – California – Colorado – Connecticut – Delaware – Florida – Georgia – Idaho – Illinois – Indiana – Iowa – Kansas – Kentucky – Louisiana – Maine – Maryland – Massachusetts – Michigan – Minnesota – Mississippi – Missouri – Montana – Nebraska – New Hampshire – New Jersey – New Mexico – New York – North Carolina – North Dakota – Ohio – Oklahoma – Oregon – Pennsylvania – Rhode Island – South Carolina – South Dakota – Tennessee – Texas – Vermont – Virginia – Washington – West Virginia – Wisconsin – Wyoming
MULTI-STATE LOTTERY GAMES
Powerball – Mega Millions – Lucky for Life – Cash4Life – Gimme 5 – Lotto America – 2by2 – Tri-State Megabucks
Order Now – Lottery Numbers – Coupon Code – FAQ – Contact Us