Michigan Lottery Numbers and Results
Looking for Michigan Lottery Numbers and Results?  The Michigan State Lottery launched in 1972. The first game was 5-Cent Green Game. The lottery introduced Daily 3 in 1977, and Daily 4 in 1981. The Michigan Lottery added Mega Millions in 2002, Fantasy 5 in 2004, and Lotto 47 in 2005. In 2010, Michigan joined the Powerball lottery. In 2019, the lottery added the Double Play feature to both Fantasy 5 and Lotto 47, whereby an extra draw is held after the main game and non-jackpot prizes are doubled. Click here to see the latest Michigan lottery numbers and results.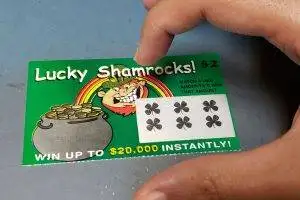 Our funny fake lottery tickets are realistic looking with guaranteed jackpots!
You will receive a set of 10 fake winning lottery tickets

Michigan is one of the only states that offers the ability to play lottery games online. Players can purchase lottery tickets online for most of the state's lotteries as well as Powerball and Mega Millions.
Profits from lottery tickets sales go to the School Aid Fund, which supports K-12 public schools throughout the state.
Can I remain anonymous if I win a lottery prize?
Yes. If you win over $10,000 in a state lottery game, you can choose to remain anonymous. For multi-state games like Powerball, your identity can be made public.
How long do I have to collect my winnings?
You have 365 days from the date of the draw to claim your winnings.
Are Michigan Lottery prizes taxable?
Yes, the prize money is considered taxable income. Winners of prizes greater than $600 will receive a W-2G form when claiming the prize.
The Michigan Lottery reports all lottery winnings over $600 to the IRS and the Michigan Department of Treasury. The lottery also withholds taxes from certain lottery winnings. Check our Tax Information section for further details.
What lottery games can I play in Michigan?
You can choose from Daily 3, Daily 4, Powerball, Mega Millions, Fantasy 5, Lotto 47, Keno, Poker Lotto, and Lucky for Life.
How old do I have to be to play the Michigan Lottery?
You must be 18 or older to buy lottery tickets and redeem prizes.
Can I buy lottery tickets in advance?
Yes. You can purchase multiple tickets in advance for consecutive draws.
What happens if my ticket is lost, damaged, or stolen?
The Michigan Lottery is not responsible for lost, damaged, or stolen tickets. Keep lottery tickets in a safe place. Signing your ticket helps prove you own it in case you lose it.
Can I purchase tickets by mail, phone, or online?
Tickets can't be purchased over the phone or by mail. You must purchase lottery tickets from licensed Michigan Lottery retailers.
If you are a U.S. citizen and resident of Michigan, you can purchase tickets for most games online.
Where do the Michigan Lottery funds go?
Profits from ticket sales are directed to the School Aid Fund, which benefits K-12 public education in the state.
Claiming Prizes
Here's the process for claiming Michigan Lottery prizes.
In-person claims, as well as any claim for annuity prizes, require an appointment. Call (844) 917-6325 to schedule your appointment.
To claim any prizes over $600, you must have a Social Security card.
Payments processed at Secretary of State branch offices can only be deposited via ACH electronic fund transfers. A valid photo ID and Social Security card are required.
To claim winnings by drop-off, complete a Ticket Receipt Form beforehand if possible and follow all posted signage and lottery staff instructions upon arrival.
To claim a prize by mail, send the signed winning ticket, a completed claim form, a copy of your Social Security card, and a copy of your ID to:
Michigan Lottery
ATTN: Claim Center
101 E. Hillsdale,
P.O. Box 30023
Lansing, MI 48909
Keep a copy of all claim documents for your records.

LOTTERY GAMES BY STATE
Alabama – Arizona – Arkansas – California – Colorado – Connecticut – Delaware – Florida – Georgia – Idaho – Illinois – Indiana – Iowa – Kansas – Kentucky – Louisiana – Maine – Maryland – Massachusetts – Michigan – Minnesota – Mississippi – Missouri – Montana – Nebraska – New Hampshire – New Jersey – New Mexico – New York – North Carolina – North Dakota – Ohio – Oklahoma – Oregon – Pennsylvania – Rhode Island – South Carolina – South Dakota – Tennessee – Texas – Vermont – Virginia – Washington – West Virginia – Wisconsin – Wyoming
MULTI-STATE LOTTERY GAMES
Powerball – Mega Millions – Lucky for Life – Cash4Life – Gimme 5 – Lotto America – 2by2 – Tri-State Megabucks
Order Now – Lottery Numbers – Coupon Code – FAQ – Contact Us